Herbalife SKIN


Line Minimising Serum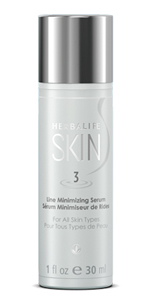 Suitable for all skin types, this multifunctional serum helps diminish the visible signs of aging. Clinically tested to show remarkable improvement in skin softness, smoothness, radiance, glow and luminosity in just seven days.
Exclusively formulated with Vitamin B3, antioxidant Vitamins C and E and Aloe Vera, chestnut seed extract, and peptide this multifunctional serum will help your skin stand the test of time.
Key Product Benefits
Morning and evening use helps maximise your results
Reduces the appearance of fine lines and wrinkles
Paraben-free, Dermatologist tested (not tested on animals).
Key Ingredients
Vitamin B3, antioxidant vitamins C and E, aloe vera, chestnut seed extract and peptide.
Product Usage
Use morning and night
Apply after cleanser and toner and before Moisturiser