Advanced Programme
*
Accelerate your weight loss progress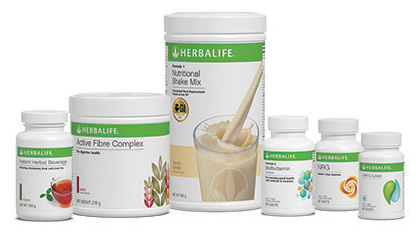 The Advanced Programme speeds your progress with the addition of Instant Herbal Beverage. The programme is based on replacing 2 meals per day with healthy protein shakes as well as having 1 healthy meal per day. The shakes are boosted with the addition of Active Fibre Complex to assist with feeling full.
The additional supplements enhance the weight loss process. The function of each product is described fully below.
Included Extras
Delivery


We will ensure your order reaches you in the shortest possible time. The majority of orders are delivered within 2-3 business days.

Weight Loss Coaching (Optional)


We provide an email-based consulting service for those that wish to make use of it. We ensure that all your questions regarding Herbalife product usage are answered and can guide you through the weight loss process.

Easy-to-Follow Programme Instructions


Our Weight Loss Programme Guide gives easy step by step instructions as well as a comprehensive guide to healthy snacks.
Programme Components
Formula 1 Nutritional Shake Mix (560g)


Formulated with an exclusive blend of selected proteins, vitamins, minerals and herbs. Low in calories, low in fat and a valuable source of fibre. Provides 18 amino acids to help the body function at its optimum level. Now contains Aminogen, a naturally derived ingredient that helps the body break down protein into free-form amino acids. Additional vitamins and minerals. Contains completely non-genetically modified ingredients. Enhanced fibre blend for a smoother, easier mixing shake.

Multivitamin Complex (90 Tablets)


Contains over 20 essential nutrients and antioxidants in a herbal base. It has been scientifically developed to provide nutritional support for individuals who may not obtain an adequate amount of essential nutrients from the daily diet.

Cell-U-Loss (90 Tablets)

s
The minerals in Cell-u-loss are important for maintaining the electrolyte balance in your body.

Active Fibre Complex (210 gms)


An excellent source of soluble and insoluble fibre that has a pleasant apple taste. Helps to promote a sense of overall well-being by maintaining healthy digestion..

NRG Tablets - Nature's Raw Guarana (60 Tablets)


A high quality Guarana supplement that will give you a natural energy boost. Guarana contains a less aggressive form of caffeine than coffee and is gentler on the digestive system, but still provides an invigorating effect.

Instant Herbal Beverage (100g)


Able to be taken hot or cold, this powerful antioxidant beverage also gives you a natural lift in energy.
Programme Outline
The Herbalife Weight Loss Programme is primarily based on healthy meal replacement and improved nutrient absorption by the body.
At the core of each programme is the meal replacement shake. This provides a fast, healthy meal with high quality protein as well as vitamins and minerals. The shake takes only a few minutes to prepare and is taken twice a day to replace two meals. The third meal, which can be either lunch or dinner should be a healthy meal containing protein and vegetables, but not too high in carbohydrates.
In addition the Multivitamin is taken twice daily and assists in adding the optimum nutritional balance to the body as well as boosting the immune system.
Additional supplements can help with different physiological factors that affect weight loss.