Instant Herbal Beverage*

A low-calorie, powdered green tea mix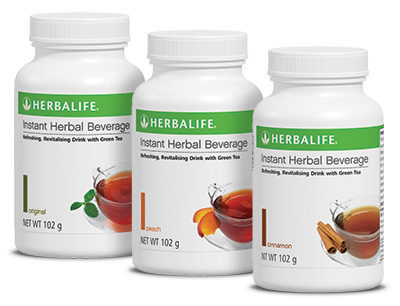 Our Instant Herbal Beverage is infused with extracts from green and orange pekoe tea to support your mental acuity while providing you the additional boost of energy to help you stay focus on your daily tasks.
Herbalife's Instant Herbal Beverage is a delicious and refreshing green tea mix, which can be served either hot or cold. Just mix 1/4 to 1/2 teaspoon of the powder with hot or cold water and stir. It's now available in three flavours - original (lemon), peach and cinnamon. The peach and cinnamon flavoured teas are sweetened with a small amount of Stevia. The original flavour contains no sweetener, but is the most popular of the three flavours.
Key Product Benefits
Combines ancient herbal wisdom with modern day ingenuity to contribute to your well-being and helps support normal vitality.
Includes the health benefits of green tea and specially selected herbs and extracts.
Formulated with Natural Flavours and Natural Sweeteners.
Ingredients Listing
Green Tea Extract (Camellia sinensis), Orange Pekoe Extract, Cardamon Seed Extract, Malva Sylvestris Extract, Hibiscus Flower Powder, Natural Flavouring, Steviol Glycosides (Stevia)
Product Usage
Mix 1/2 tsp (approx 1.7g) with 200-250ml of hot or cold water. Enjoy as often as you like.