Relaxation Tea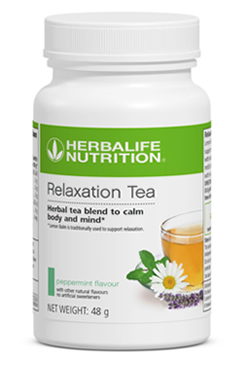 Need to unwind? Rest and rejuvenate with a refreshing cup of peppermint-flavoured Tea. Relaxation Tea is a specially formulated herbal blend of Lemon Balm, Passionflower, Lavender and Chamomile to help support relaxation. Lemon Balm is traditionally used to help cope with occasional stress, maintain a healthy mood and support restful sleep. No added caffeine.
Key Ingredients
Lemon Balm Extract, Passionflower Extract, Chamomile Extract, Lavender Extract, Flavour (Natural Peppermint, Spearmint & Lavender Flavours), Sweetener (Stevia).
Product Usage
Shake well before use. Mix a rounded 1/4 teaspoon (0.8g) with 180-350ml of hot water. Can be enjoyed hot or warm at any time of the day. Instant and easy to prepare.