Herbalifeline*

(Sourced purely from wild caught fish off the coast of South America)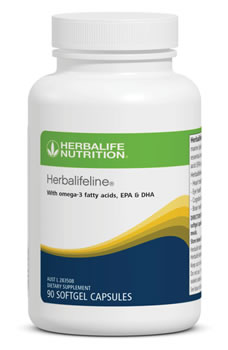 Many diets lack sufficient essential fatty acids, especially the important Omega-3s. Herbalifeline™ is an excellent way to supplement your daily intake of the Omega-3 fatty acids, eicosapentaenoic acid (EPA) and docosahexaenoic acid (DHA), essential for a healthy cardiovascular system.
Key Product Benefits
Omega-3 fatty acids help assist in the maintenance of general-wellbeing.
Eicosapentaenoic acid (EPA) and docosahexanoic acid (DHA) are for cardiovascular health and triglyceride health.
Docosahexanoic acid (DHA) supports eye health and cognitive health and/or normal brain function
Ingredients Listing
Fish Oil Natural (450mg)


(eq. eicosapentaenoic acid : 72mg) (eq. docosahexanoic acid : 45mg)

Concentrated Omega-3 Triglycerides (400mg)


(eq. eicosapentaenoic acid : 106mg, eq. docosahexanoic acid : 70mg)

Vitamin E


Antioxidant to help preserve the freshness of the fish oil.

Thyme, Peppermint and Clove Oils


These essential oils help improve digestibility.
Product Usage
Take one to two softgels three times per day, preferably with a meal.