Herbalife24 CR7 Drive*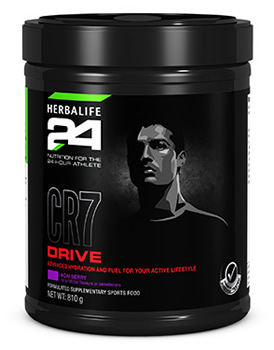 Co-developed with Cristiano Ronaldo, supporting ideal hydration and energy during physical activities. Formulated with ingredients supporting top performance.
Key Product Benefits
Enhancing hydration with vital electrolytes lost during exercise
Brain-fuelling glucose helps promote quick and accurate game-time decision-making
Lightly flavoured with no artificial flavours
Bioavailable electrolytes
Carbohydrates for energy
Prohibited substance tested
Key Ingredients
Electrolytes, Vitamin B1, Vitamin B12.
Product Usage
Mix 1 Scoop (13.5g) of powder with 250mL of water. For moderate workouts consume 1 to 3 servings a day and for endurance workouts consume 2 to 4 servings a day.