Formula 1


Nutritional Shake Mix*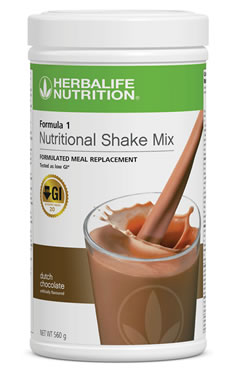 Being healthy includes achieving and maintaining the correct weight. Herbalife Shakes made with delicious Formula 1 Shake Mix can help you attain this. Whether you have one shake a day as part of a healthy meal, or two shakes a day as part of your weight loss programme, you can trust Formula 1 to deliver the perfect healthy solution.
Each serving of Herbalife Formula 1 contains 9 grams of high quality, non-GM soy and whey protein and will help you feel full and satisfied. It's rich in vitamins and now contains the added benefit of Aminogen, a naturally derived ingredient that helps the body break down food protein into free-form amino acids.
One 560g container of Formula 1 will last the average person, on a weight loss regimen, 2 weeks. If you are a larger person or engage in vigorous sport or activity then you maye require a bit more per serving and it will last 10 days.
Key Product Benefits
Herbalife Formula 1 Nutritional Shake Mix is tested as a low GI. GI value is for powder only and the values are - Vanilla 20, Chocolate 19, Berry Flavour 21 and Cookies n' Cream 15.
Underpinned by science: Clinical studies show that daily use of meal replacement shakes as part of a calorie restricted diet is proven effective for managing weight, along with moderate exercise.
Low in calories, with only 205 calories (or 857 kilojoules) when mixed with 300mL skim milk, Formula 1 shakes are a great option if you are looking to build lean muscle mass along with exercise.
Quick to whip up, a F1 shake is a convenient healthy alternative to a high-calorie breakfast, lunch or dinner.
Soy protein: a complete protein providing all essential amino acids.
Provides essential vitamins and minerals.
Ingredients Listing
Protein
Soy and Whey - Each serving provides 9g of protein, helping to keep the body's protein requirements balanced and to minimise muscle wastage during periods of weight loss.

Vitamins


A, Thiamin, Riboflavin, Cyanocabalanin, B6, Niacin, Ascorbic Acid, Cholecalciferol, E, Folate, Biotin, Pantothenic Acid, K.
Minerals
Calcium, Iodine, Iron, Phosphorous, Magnesium, Zinc, Manganese.
Fibre
Calcium Casseinate - a calcium source which may be more suitable for those with lactose intolerance.
Aminogen
A naturally-derived ingredient that helps the body break down food protein into free-form amino acids which are better absorbed by the body.

Product Usage

Herbalife Formula 1 can be used to lose weight, gain weight or as a healthy supplement when weight change is not sought.
Blend or stir 28g of Formula 1 with 300 ml of skim milk, soy milk, rice milk or oat milk. Add fresh or frozen fruit and ice as desired.
To lose weight, replace two meals per day with a healthy Formula 1 shake. We also recommend you take a look at the Herbalife weight loss programmes.
To gain weight, take three shakes per day in addition to your three meals. It is also recommended that you boost the protein content with Personalised Protein Powder.
To maintain weight or just as a healthy breakfast, take one shake per day to replace one meal.