Herbal Aloe


Everyday Soothing Hand & Body Lotion*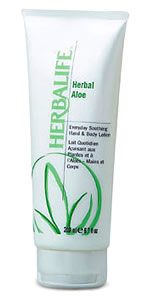 Enriched with high-quality aloe, chamomile, calendula and shea butter, this light, non-greasy lotion works fast and makes hands soft to the touch. Climate, hard water and pollution can dry out skin. Take steps to maintain moisture with this fast-penetrating and nourishing formula made from whole-leaf aloe and select extracts that keep skin moist and smooth.
Key Product Benefits
Moisturise from head to toe
Leave skin feeling silky smooth
Soothe skin with aloe
Key Ingredients
Aloe gel, chamomile, calendula and shea butter.
Product Usage
Apply generously wherever needed. Enjoy even more of the benefits of aloe with Herbalife Herbal Aloe Everyday Hair Care and Body Care Products.